Are you Madoka Kaname or Homura Akemi?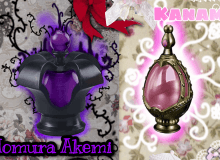 Hello there! My name is Violet and this quiz is a doozy. It's about a anime show (that I quite fancy) called Puella Magi Madoka Magica! If you haven't watched it, definitely do! [it'll make you cry... Hahahehe] This quiz won't make much sense if you don't know the plot...
So shall we? Lets roll before the credits do! Haha... I'm funny ain't I? :) xDD I hope you're having a fine day... I sure am. Or perhaps you're having an awful evening, it's okay, we all do, buttercup! This quiz is sure to cure all that ales you, so you don't have to suck it up! Now... Where was I? Ah yes, go take my marvelous quiz! 🖤🌸🎀💜 You're still reading? Is it night time for you, perhaps? You naughty brat! Get to bed before the rats get your toes!
Created by: VioletEyedDolly