Are you a real person?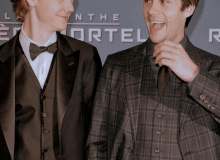 Take a test if you are a real human because of the things you now about series and movies or actors or more exactly what you like so nothing bad I now you are a person but yeah it's fun you now!:) ;).
So just take this very fun test and I'll be happy! So yeah be nice send it to people for helping me do your own quiz is this quiz good ? I don't now I think it's a little good but yeah bye!
Created by: Ebba Danielsson