Are You a Cat or a Dog?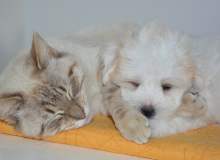 Two of the most common pets that us humans like to keep are cats and dogs. Cats are nice and fluffy soft, and are the perfect animal to have on your lap. Dogs are playful and energetic, and a good pal when you're feeling down.
This is the perfect quiz for you if you have ever wondered: are you more like a cat or a dog? Thanks to this quiz, you can find out! Just answer the questions truthfully and you will get your guaranteed answer!