Are you a cat or a dog?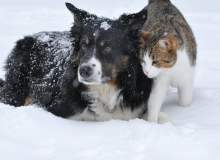 This is a quiz to see if you are a cat or a dog. Its not the highest quality so if that's what you were looking for I would not recommend this quiz. Yet its not terrible either, so if you don't really care, stick around! Maybe you'll like it.
I designed it sort of as a reaction quiz, so if you have an instant reaction to a question-like "NO" or "YES" or "ASDFGHJKL" or "That's a bad question" then to ensure best results I wouldn't recommend changing your answer when you see the possible answers...just choose the one of closest fit.
Created by: Jet