am I a foxy fangirl?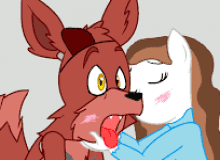 well um this is about if your a foxy fangirl or not and yeah im bored so I made this lol so I like fans I'm actually plushtrap fanboy lol he's a cool boy
im bored as fricc so I will facts about me because why not I know im supposed to talk about but screw rules anyway im an artist and im in the fnaf fandom. im in multiple fandoms main one right now is night in the woods. oof bye!
Created by: a dude with dreams