5x5 Moral Alignment Test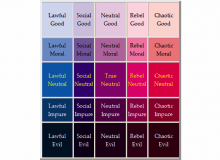 Welcome to the only 5x5 moral alignment test available online! Containing a whopping total of 25 alignments, it fills the gaps between Neutral alignments to add a bit more depth. Between Lawful and Neutral is Social; between Chaotic and Neutral is Rebel; between Good and Neutral is Moral; and between Neutral and Evil is Impure.
This is a more realistic system than the original 3x3 moral alignment (which has a total of only 9 alignments), and allows for preference towards a certain axis, such as a traditionally Lawful Good character who is more good than lawful (Social Good), or a traditionally True Neutral character who still prefers to help people than to hinder them (Neutral Moral).