Who Are You In The Tales Of Moonstone?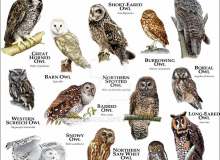 This quiz will include Zephoria, an Elf Owlet, two Barn Owlets, Evelin and Rayia, a Great Gray Owlet called Reionigien, and a beautiful, shy Snowy Owlet named Snoiya.
This is my FAVORITE book series even though it's not published. Mary, my sister, is making books and quizzes! This is a book called The Tales of Moonstone and it's about a brave Rayia going to a magic school and making friends and going to school on a magic whale! Genius! Then she end's up saving the day from an evil demon called Payporiya and more! I reccomend it to you when it's published!
Created by: Regina