Which weapon is by your side?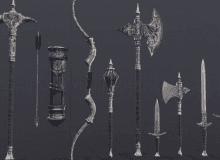 Ever wondered what weapon would suit you best, protecting you and helping you along your adventures? Find out here. Wether it be axe or bow, let it be what really is. et your weapon's soul choose if you are right for it.
Choose each question carefully though, or your battle will not be won with the wrong weapon, so choose wisely and be honest, think, is this really what I am imagining? Good luck, be wise and honest, choose with your soul.
Created by: Dunni