Which Victorious Girl Are You?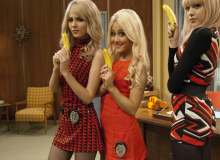 Who are you most like? Jade, Cat or Tori? From the hit Nickelodeon show "Victorious". For a bit of a throwback, even though the show ended a few years ago.
This quiz isn't your cliche "what's your favourite colour" quiz. It looks at things such as different situations and how you react, it looks at how you feel about yourself and your opinions. All three results are the best of each character. Hope you enjoy!