Which Stand-Out Color Should You Dye Your Hair?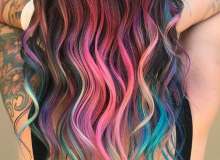 Hi! I'm back again with another quiz. Unfortunately, the progress bar for my leveling up had recently reset itself and I'm starting over beginning at Novice. So if you could take this quiz, rate it well, and comment then that would be great :)
So this quiz will determine which unnatural color you should dye your hair. I originally made this quiz for females, but boys can take it as well if they wish to. The possible results are Purple, Pink, Green, Red, Blue, and Rainbow. Have fun!
Created by: Cinnamon_Roll