Which Krew Member Are You?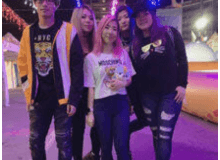 Are you wondering which Krew member you'd be, take this quiz to find out! Will you be Lunar, Funneh, Rainbow, Draco, or Gold? Or will you be a combination of the Krew? Take this quiz to find out!
In case you've memorized all Krew members's youtuber names and are wondering what their real names are, here you go! Lunar-Wenny Funneh-Kat Rainbow-Betty Draco--Allen Gold-Kim!
Created by: Anonymous