Which Harry Potter character are you? (part 2#)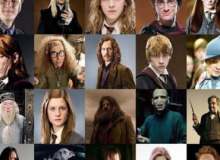 Harry Potter is a book/movie we admire. There are a lots of amazing, inspiring characters and we all have a favorite. In this quiz on part two you'll find that which character are you depending on your answers.
Harry Potter is a series of seven fantasy novels written by British author J. K. Rowling. The novels chronicle the lives of a young wizard, Harry Potter, and his friends Hermione Granger and Ron Weasley, all of whom are students at Hogwarts School of Witchcraft and Wizardry.
Created by: Severus Snape7