Which Disney ZOMBIES character are you?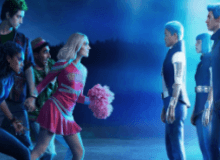 WELCOME TO "WHICH DISNEY ZOMBIES CHARACTER ARE YOU?" I have to put more words here because of the dumb GoToQuiz.com rules. So how are you? I say au revoir!
In this quiz you will answer a series of questions to determine if you are, Buckey, an Acey (Stacey, Jacey, or Lacey), one of the alpha siblings (Willa or Wyatt), Wynter, Zed, or Addison. !Warning! !This quiz is purely for entertainment purposes! !These answers will most likely not be accurate!