Which Character Of The Promised Neverland Are You?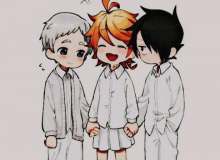 The Promised Neverland is a manga series written by Kaiu Shirai and illustrated by Posuka Demizu. The play tells the story of orphaned children, led by an eleven-year-old girl named Emma, who try to escape from the orphanage where they were deceived and which hides a dark secret.
I don't remember if I saw any The Promised Neverland GTQ quiz soooooo...Here it is, the first one :D! I'm too attached to that anime, it's just too awesome..