Which BNHA character is your match(with roleplay,girls only)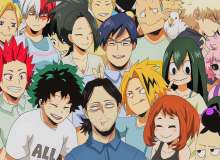 I was making this quiz during school time so please appreciate me- sorry I sound weird but anyway this quiz might not be satisfactory. Girls only I'm not saying this because I have a personal grudge against boys, but unless your gay or a girl don't take this quiz.
Also, I made this because I was bored in school too. I worked really hard and I'm nine so I don't think I submitted anything really inappropriate...did I?...
Created by: Gabrielle Myers