Which Blood of Olympus character are you?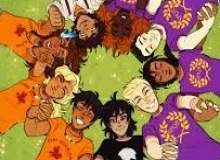 This is a quiz to see which Blood of Olympus character you are. The results are accurate and I hope you like your results. If you don't like your results, then take the quiz again. But be honest. That's the best way to get an honest answer.
I would like you to comment and rate. I would appreciate any feedback that you would give me. I hope you will enjoy this quiz. Hope you'll get the character you like best!
Created by: Curo is best