Which 2012 TMNT Turtle Are You?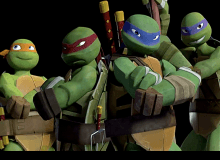 I was watching the 2012 TMNT on DVD the other day, and wanted to make this quiz. You can be high-tec Donnie, pizza-loving Mikey, short-tempered Raph, or level-headed Leo.
I've also seen the 2007 TMNT and sincerely believe that this one brings more spirit to the turtles. Each of these questions has an effect, so please don't skip any. Enjoy, and please rate and comment!
Created by: Weirdhead