What type of friend are you?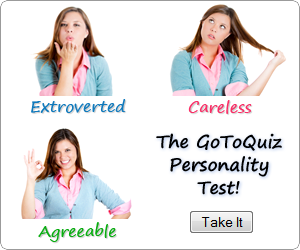 This test, is designed so you can entertain yourself, if you choose to do so, or entertain with others. Please remember that your result is just something to think about, it also gives you someone to think of with the result you may obtain, or mabey you know someone that the discription fits.
I am not giving you a diagnosis, or a label, I am just giving you something to think about, if you choose. If you like to relax and take multiple choice tests, I do hope you found it to be entertaining. Again, you may or may not be any of these "answers" or "conclusions", there are no definite or permanent answers or solutions to these questions, only the truth you have within yourself. There are no right or wrong questions or answers.
Related Quizzes:
Create a quiz on GotoQuiz. We are a better kind of quiz site, with no pop-up ads, no registration requirements, just high-quality quizzes. Hey MySpace users! You can create a quiz for MySpace, it's simple fun and free.