What tribe are you? (Wings of Fire)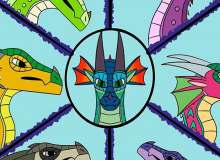 Are you trying to make an OC and need ideas? Or do you just wanna know for good stuff? Well, here it is! Welcome to Mango's What Tribe are you (Wings of fire)?!
I hope you will like this. I work very hard on this kind of things. It may not seem like much but hey, it's something. Don't forget to tell people what you got!
Created by: Princess Mango