What Kind of Serial Killer Would You Be?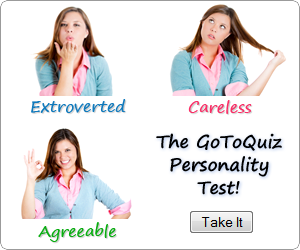 There are many types of serial killers. Some are intelligent and methodical, others impulsive and rash. Some kill for material gain, or out of a desire to cleanse the world of lesser peoples. Maybe they hear voices or get a sexual rush out of murder.
What kind of serial killer would YOU be? How would you kill and why? Just because you're not a serial killer doesn't mean you couldn't be. Find out which type with this fun quiz!
Related Quizzes:
Create a quiz on GotoQuiz. We are a better kind of quiz site, with no pop-up ads, no registration requirements, just high-quality quizzes. Hey MySpace users! You can create a quiz for MySpace, it's simple fun and free.