What Is Your Clone Trooper Class?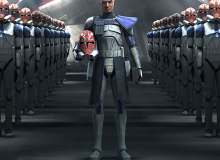 In this quiz, you will find out your clone trooper class in the Grand Army of the Republic. The possible classes included in this quiz are: Clone ARC troopers, clone medics, clone scouts, clone sharpshooters, clone heavy gunners, or clone engineers!
If there is anything you want me to add to this quiz, I'm open to suggestions. I'll defiantly be making more of these. Look out for my next quiz, What Is Your Clone Trooper Rank?
Created by: Em