What is my KOTLC (elvin) Speical Ability!?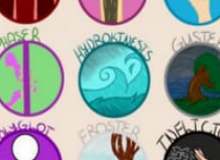 Hi! To all you Keeper of the Lost Cities (KOTLC) super fans out there, this quiz is for you. For anyone who is just curious as to their super power, it's for you too! I hope it is as accurate as possible, and that y'all enjoy all the fun pictures. Anyways, good luck! Feel free to retake if needed and please comment to tell us what you get!
There are liiike dozens of abilities in the KOTLC world, so I tried to pick a lot of the common and popular ones. I would reccomend taking a few quizzes, to make sure you get a good result for you, but again, hoping this one is good :) Finally, there ARE a lot of spoilers in here, so if you haven't read through book 8.5 yet and don't want any secrets spilled, plz come back to this quiz when you're finished reading. Otherwise, go right ahead, my friends!!!
Created by: Elli Cottle