What color should you dye your hair?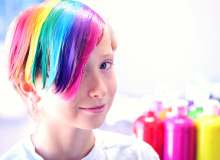 It only allowed me ten results so it is pretty accurate. This quiz will help you find the best hair color for you. Are you excited? I am. I don't know if your just taking this for fun or your actually thinking about dyeing your hair but I have wanted to for at least a decade! (I am 12 years old)
I hope you like this quiz and decide to comment. I hope your result is satisfactory for your tastes. I am basing this off what I can get of your personality. Ok! Let's get started quickly shall we? All right!
Created by: GinnyWeasley12