The Zombie Obsession quiz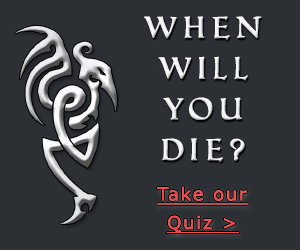 Some people are Obsessed with zombies, and some are not, who knows. You might be obsessed, and you might think the whole subject revolting. But i know that you can make the right decision. So go ahead and take the test.
Zombies are actually a serious matter, only headshots can kill these buggers, and they feel no pain, so take them seriously. Now take my test and score high, unless you dont think that you are obsessed.
Related Quizzes:
Create a quiz on GotoQuiz. We are a better kind of quiz site, with no pop-up ads, no registration requirements, just high-quality quizzes. Hey MySpace users! You can create a quiz for MySpace, it's simple fun and free.