If you were an anime girl, what would you look like?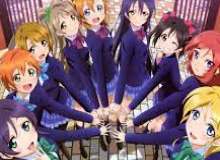 I will start off by saying that I AM SO SORRY THERE ARE NO MALE CHARACTERS!!! This may come off as sex!st, but there would be far too many results if I added them! I'm so sorry, if there are a lot of people mad at me in the comments, I will probably make a male version! Warning: THIS QUIZ IS VERY SHORT AS IT IS NOT ABOUT PERSONALITY ETC.
For those who don't know: Anime is a style of drawing in Japan. It is basically manga but with colour.In this quiz, you will find what you look like as an anime girl! The results will not specify if you have the following: glasses, contacts, dyed hair, artificially tanned skin. I know you can use Google to find this out, but a quiz is much more fun, yes?? Please note: The results show what you would look like if you were an anime girl, the description may NOT be so accurate. Do not hunt me down with pitchforks and fire if it isn't. Also, these will not specify if your body is curvy, skinny, big, small, etc.