How well do you know the game Roblox Piggy?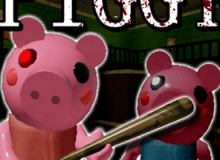 This quiz will tell you how good you are at the game Roblox Piggy! After you take this quiz, you will know how good you really are at the game! This will tell you!
There will be 10 questions, and you will have to answer them! Once you do, you will get 1 out of 6 results, and there will be multiple types of questions going from easy to hard, Enjoy!
Created by: Sadie Delagrange