How Much do you know about the WoF Legends?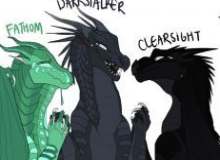 Wings of Fire. The dragon tribes of Pyrrhia have been at war for years, locked in an endless battle over a powerful throne and a lost treasure. A secret movement called the Talons of Peace is determined to bring an end to the fighting, with the help of a cryptic prophecy.
The first–ever special edition of the New York Times bestselling Wings of Fire series soars back in time to the origin of Pyrrhia's most dangerous dragon: Darkstalker. ... Darkstalker, the dragon who will change the world forever. Long before the SandWing war, lifetimes before the Dragonet Prophecy… darkness is born.
Created by: Meher Kulkarni