Wings of Fire Book 1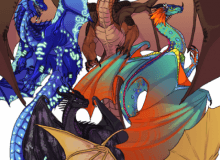 This quiz will see how well you know Wings of Fire. From Who Clay's mother is, to Queen Scarlet's death, you will see how well you know wings of fire, and put that knowledge to the test!
Wings of fire book 1 is a book that introduces Clay and his friends. Throughout the series, different dragonets star in each of their books. Tsunami meets her mother, Glory becomes queen, Starflight gets kidnapped by the NightWings, and Sunny gets sold off to Burn and gets Smolder as a friend.
Created by: Meher Kulkarni