Frozen; Are you Anna or Elsa?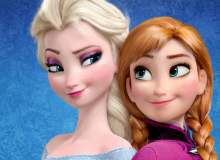 This quiz is about the Disney movie, Frozen. Frozen is the story of two sisters, Anna and Elsa. The older sister, Elsa, has secret icy powers, that she accidentally uses to give Arendelle eternal winter.
In this quiz, you will find out which of the Disney sisters you are, Princess Anna or Queen Elsa. To find out, answer the questions on this quiz honestly. So, take this quiz!
Created by: Vampirina