Do you know your horse breeds?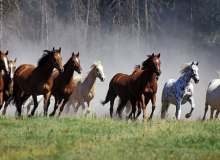 Do you know your horse and pony breeds? Are you an expert or just a wannabe? Take this quiz to find out dudes!For some reason I'm supposed to write 'two paragraphs that describe my quiz so I'm just typing random stuff so yeah!
I love horses and horses are my life and I read about them and think about them 24/7 and I ride as much as possible and sadly I don't have a horse but I want to get one ASAP!
Created by: Equestriangirl4ever!