Do people know you self harm?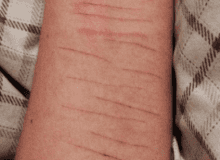 Having experience from self harm, I always used to wonder if anyone knew or guessed if I had harmed myself. I always used to search up quizzes as I was desperate, so I decided to make one myself.
Remember that if your self harm is serious, telling a trusted family member or friend will make it a lot easier, eventhough its tough. Self harm can make life eaiser in some ways, but can be very addictive, so if you are thinking of starting, please think of the concequences once youve finished.