Can You Name These Gothic Literature Titles?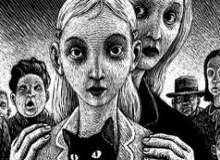 Gothic literature is usually defined by dark elements often involving something horrific or mysterious. Elements and characteristics of the Gothic genre include death, spirits or ghosts, haunted property and curses, and vampires. Stories in this genre are often described as spooky, disturbing, or morbid.
The first Gothic novel (The Castle of Otranto by Horace Walpole) was originally published in 1764, meaning that Gothic literature has been around for over two centuries, approaching three. Many Gothic stories are relevant today, with many of its characters becoming iconic in pop culture. How well do you know the stories? Can you name these Gothic literature titles?