Can you enter the Vault?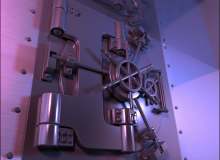 READ FOR STORY: You recently just inherited your family home. It belonged to your recently passed, world-renowned astrophysicist father, Martin Raynes of NASA, but have been told it's in rough shape as of late. So, in hopes you can quickly revamp the home for sale as you can not afford to keep it, you choose to take a look. it with a crew. That's when you, alone, stumble upon a hidden room with a large sealed vault. On the door there is a note that reads: "Hidden within this mysterious vault of my own creation, lies a prize- plans my team of engineers and colleagues formed for an new method of space travel, unlike any before. I am the only one who holds the plans, as it was intended to be unveiled by my colleagues soon after I finished tweaking them. However, if you are reading this then I have passed on and must leave someone these plans- I hope someone I trust. If you open this vault, I will trust you with the plans and to bring them to my colleagues. It will not be easy, however, as you must find the correct passcode to enter the vault. Answer the following questions to gain a passcode- they will be random questions with random answers. Punch in each answer as you go, onto the keypad. If you answer each one with the correct answer and enter it in, the result will be a correct passcode. Fail to answer any questions correctly and you will be locked out of the vault with an incorrect passcode. Good luck. P.S. The computer has been on the fritz and may have missing numbers-
READ FOR SETUP: This is meant to be a original and creative quiz. (If you use this method or want to use this concept as a whole please give me credit- I would greatly appreciate it!) By the end, you will have a "passcode" created for you when you get the results. Remember, there will only be ONE passcode to enter the vault. In the end, this quiz is meant to be PERPLEXING, and may require a lot of time, but you will get it, I assure you! Be sure to write down what you have tried and haven't to keep track of your answers.
Created by: Negotiations