Are you Kuromi or My Melody?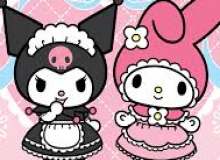 If you are familiar with the Sanrio franchise, then you probably know Kuromi and My Melody. The perfect rivals. Even though Kuromi is troublesome and mischievous and My Melody has to hold back her irritation sometimes, they have a soft spot for each other, and deep down, they're good friends.
So? Kuromi and My Melody are almost exact opposites. Kuromi is known to be a daring trouble maker, always trying to hide her softness and look tough. My Melody is known to be a kind sweetie, sometimes a little too honest. Which rival are you? Continue to find out...
Created by: Jayfeather310