Are you a Warrior or UnderTale fan?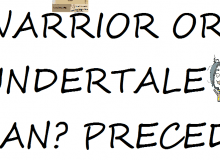 Hello, Ello, Hola, Hi, wait, what else means hello? Eh. Any who, UnderTale and Warriors. My two favorite things pushing and pulling away, now side by side. XD
To day after you answer all 10 questions, you will get one of the answers. Just remember, today you will get an answer to your question. Now go enjoy!
Created by: RosePelt