Are you a true Equestrian?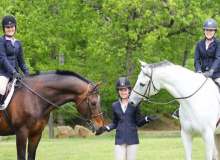 Lots of people out there call themselves an 'equestrian'. But proven by lots of bad 'trainers' and 'professional' riders, This isn't always true. You may wonder- are you a true equestrian?
Take this quiz to find out! Maybe you are, maybe you aren't, but you'll never know unless you take the quiz! Learn more about horses too, and common sense round horses.
Created by: BopBop