Are You a Sugar Addict?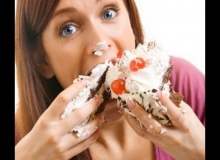 Find out if you are a sugar addict. The results might surprise you. Sugar cravings and the health problems they cause can be fixed. it's not the end of the world. But it can be if our health is damaged by excess dietary sugar. It's a killer. And we can help.
So- sugar and you. Is it a happy marriage? Or maybe sugar in your diet is a little bit of a problem? Or a big one? Take the quiz... Hint: A high score, means you ARE a sugar addict. Oops.
Created by: Vicki Link of Sugar Kickers
(your link here more info)