Are You a Fairy or a Mermaid?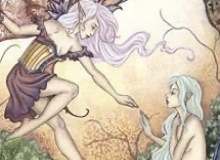 Two of the most well known mythological/fantasy creatures are the fairy (aka pixie) and the mermaid. The fairy lives on the land and cares to the wild, free nature. The mermaid lives in the sea and cares to the swimming creatures in the ocean.
Which creature are you? Are you a fairy or a mermaid? This quiz will give you that answer. What are you waiting for? You need to fly/swim on over to the questions! Don't forget to rate and comment!