Witch blackie sootfur chacter are you? (Part 1)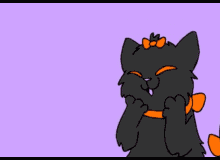 Ever wondered witch blackie sootfur chacter you are? Well, your in luck! This quiz will tell you witch cute little bundle of joy you are. Cute. Little. Bundle. Of. Joy.
Note: please like, it took a while. And dont be mean in the comments. Anyways, I hope you enjoy this! See you at the end of the quiz!!! Trust me, youll love it!
Created by: Cadey