Who is your warrior cat boyfriend?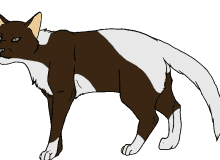 Hey,people wanting a warrior cat boyfriend here is a quiz that is for you! in this quiz you are playing as a she-cat named Bronzeclaw A yellow and brown she-cat cool right?
She is pretty cool if you ask me! ha ha ha! so funny I found bat fur on the internet! and acorn kit along with pear kit well basiclly everyone he he he....
Created by: Brilee Floyd