Who is your Encanto look-alike? (girls only)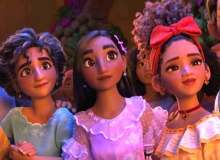 Hi! It's me again, and now I've watched Encanto 8 times and today hopefully I'll watch it a 9th! My goal is to have watched Encanto 100 times in my life!
So please watch Encanto or watch it again and have fun doing my quiz! I hope you enjoy it, and although it may not be 100% accurate, it should give you a close enough look-alike from Encanto. If you're a girl.
Created by: ilovemermaids