Which Phyyria tribe do you belong to?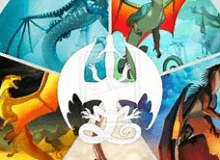 I finally figured out how to paste Wings of Fire pictures! Anyway, I hope you enjoy this quiz! Please don't take this quiz unless you read at least one Wings of Fire book.
There are SkyWings, SandWings, SeaWings, NightWings, RainWings, MudWings, and IceWings in this quiz but obviously, it says straight from the title Phyyria.
Created by: Hazel DeCosta