Which one of my OCs are you?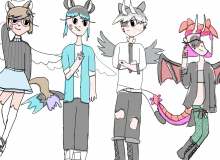 So, in case your wondering, this quiz is for my 6 Gacha Life OC's. Their names are Summer, Ashley, Alexis, Jackson, Liam and Jeyal! So enjoy my luvs! :3
Hi! My name is Summer/Sunny and I've been on GoToQuiz for 4 months now! <3 our fourm community is very small and we would love if you would come and join it!
Created by: Gacha_Summer