Which of my warrior cat Oc's are you most like?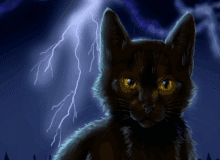 Hello everyone! This is Dovewingfan, and this is my third quiz. If you have not tried my first two quizes, please take them. They are called 'Warrior cats love story for she-cats only' and 'which of my five clans do you belong to'.
Now, onto this quiz. This quiz will tell you which of my warrior cat Oc's you are most like. Please do not take any of my characters without my permission. I give credit to FeatherDraws for letting me use two of her Oc's for this quiz. Please rate or comment! Thank you and enjoy!