Which Member Of BTS Are You?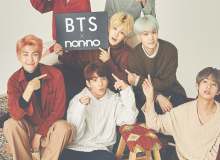 Hello! Welcome to my very first quiz! BTS is a k-pop (Korean pop) boy band. BTS stands for bulletproof boy scouts, and their fans are called A. R. M. Y's. They are very good singers, dancers and rappers. Please check out their songs on BigHit Entertainment if you haven't!
This quiz will show you which member in BTS you are, the possible results are Jin, Suga, J-Hope, Rm, Jimin, V and Jungkook, answer the questions and once you're finish you'll find out who you are! Enjoy!