Which duck brother are you?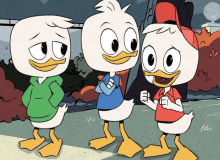 This quiz will determine which duck triplet you are (Huey, Dewey or Louie), based on either choices you make, or your favourite colours, animals etc .
This next paragraph is actually kind of useless because I have run out of things to say and I have to fill the paragraph. I am quite close to finishing it, so you may as well start the quiz.
Created by: Whovian839