Which Disney Princess are You?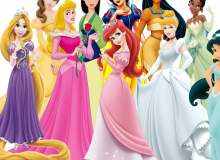 This quiz is designed to see which Disney Princess you are most like. Are you a brave risk-taker or are you a peace-maker. Answer these twelve questions and you will know.
There are ten possible answers: Snow White, Cinderella, Aurora, Ariel, Belle, Jasmine, Mulan, Pocahontas, Tiana and Rapunzel. So have fun and enjoy the quiz.
Created by: HaroldofthisQuiz