Which Character From the Land of Stories are you?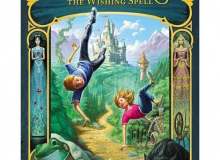 Hi!!! Our names are Fifi & O and we made a super awesome quiz on Gotoquiz.com. Find out which character from The Land of Stories you are in this awesome quiz.
If you take this quiz right now, then you will find out if you are Queen Red Riding Hood of the Red Riding Hood Kingdom, Goldilocks, Alex Bailey, Conner Bailey, Bree Campbell, Froggy, or Jack.
Created by: Fifi & O