What Soccer player are you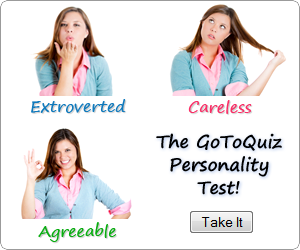 This is a quiz about soccer. It's fun for all soccer fans.And it's a good way to kill some time. So, this is really fun so just try it out. And if you have trouble deciding what to do in hard situations this might help you. But that's just what I think.
Now you'll be able to know who you think like. Maybe you'll be the next soccer superstar. Maybe not. Either way this is a good way to have fun. And its fun to see if you're like your favorite player, or if you're not, who you are like. Just try it and see what happens.
Related Quizzes:
Create a quiz on GotoQuiz. We are a better kind of quiz site, with no pop-up ads, no registration requirements, just high-quality quizzes. Hey MySpace users! You can create a quiz for MySpace, it's simple fun and free.