What Member of We Are The Davises are you?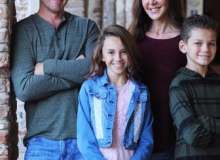 Have you ever watched We Are The Davises on YouTube? They are a family vlog channel, with hundreds of videos and subscribers. They do things like sardines, the Polar Plunge, sliming, 24 hour challenges, regular vlogging, and even shipping the kids in boxes oversees for a vacation!
Have you ever wondered which member of We Are The Davises you are? Are you Kayla, the slime queen? Shawn, always up for a challenge? You could even be Hershey or Harley, the dogs, but they are pretty rare. It IS possible, though.